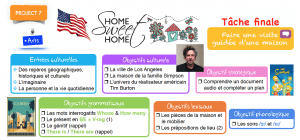 6eD
Voici la vidéo de la maison des Simpson qui vous servira de support pour la prise de parole en continu du vendredi 26 mai (Training task).
1- GET TO KNOW LOS ANGELES
2- BOOST YOUR VOCABULARY
Rooms and places in a house
3- BOOST YOUR GRAMMAR 
Le génitif (Rappel) et Whose

4- BOOST YOUR PRONUNCIATION
Tip : il faut déplacer les phrases avec la souris de façon à associer les génitifs dans les phrases lues ou entendues à la prononciation qui convient : /S/, /Z/ ou /IZ/ (à gauche, au milieu ou à droite).
5- GET READY FOR YOUR FINAL TASK!
Keep practicing to be the best real estate agent 😉!
(vérifie si le son est coupé pour pouvoir faire l'activité)