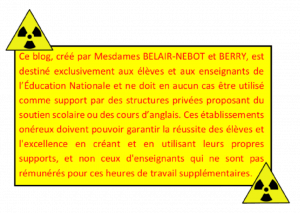 Dear 6th, 7th, 8th, 9th and 10th graders, this blog is YOURS !
We've got great news for all of you : English is fun !
This is true! All you have to do is give it a try!
On this blog, you will find useful documents, files and links to help you improve your English.
It's up to you to enjoy English and succeed now ! 
Your English teachers.
SAVE THE DATE!
GET READY FOR THE BIG DAY : https://www.thebigchallenge.com/fr/student/game-zone/
Découvre les

programmes de mobilité

(voyages)

linguistiques

pour les

élèves

!