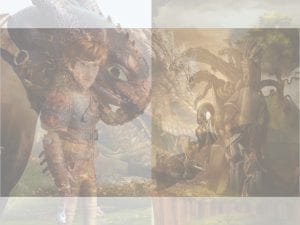 AMAZING DRAGONS
1. BOOST YOUR VOCABULARY
Discover dragons and how to talk about their personalities and physical characteristics.
Play different games and learn dragons' body parts.
HOW TO TRAIN YOUR DRAGON
2. BOOST YOUR SKILLS : CULTURE / LISTENING / SPEAKING
Discover the original books by Cressida Cowell and meet the dragons from the films.
Watch the webisodes and read the scripts in your copybook. Practice reading out loud.
The Deadly Nadder
The Gronckle
The Monstrous Nightmare
The Terrible Terror
The Hideous Zippleback
Meet the new dragons – Watch the video and practice reading the script in your copybook.
3. BOOST YOUR GRAMMAR
L'EXPRESSION DE LA POSSESSION 

Les adjectifs possessifs 

Le génitif 

Adjectifs possessifs et génitif – Click on

 QCM
4. CULTURE TIME
Viking alphabet in the Book of dragons 

How to speak Dragonese 
 The Hobbit : The Desolation of Smaug
5. BOOST YOUR GRAMMAR
Les pronoms interrogatifs (WH- Words). 
6. Meet the adventurers !
CHARACTERS IN THE HOBBIT AND THE LORD OF THE RINGS SERIES 
WHO ARE YOU ? FIND YOURSELF A HERO NAME AND AN EPIC TITLE. 
Visit http://www.fantasynamegenerators.com
7. LEARN TO LEARN – MIND THE GAP FILLERS
8. BOOST YOUR GRAMMAR – PRESENT SIMPLE ET ADVERBES DE FREQUENCE